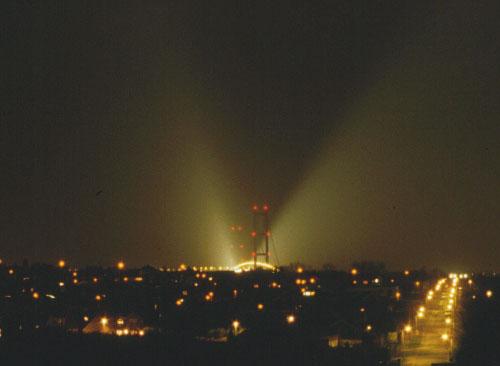 Many thanks to Andrew Credland for this excellent photograph, reproduced here with his permission. Reproduction of this image elsewhere will require Andrew's consent.
Lighting Up the Humber Bridge? No Thanks!
The Humber Bridge lighting trials - 1999.
This was only 1/6th of the proposed array of 72 lights. The bridge tower height above the piers is 155 metres, so you can work out for yourself how high the light beams went!
THE STORY CONTINUES...
The idea has not yet been completely abandoned by the "Bridge Lights Brigade".
A plan in circulation [October 2004] was a £40,000 trial of, at that time, a staggering £2 million plus "light pollution free" lighting system for the Humber Bridge, strongly supported by Hull Chamber of Commerce. I was told it could involve a possible 400 laser beams shining off special paint on the structure.
A trial of a further scheme to make the bridge look "nice" took place on Monday 16th May 2005 - reported to have "failed".
Yet another lighting scheme was mooted in 2017. See Hull Daily Mail article:
» How our Humber Bridge will look if this lighting scheme gets go-ahead. 2017!
» The following Guardian article gives some historical and biological background to the project.
The Bard got it right!
To gild refined gold, to paint the lily,
To throw a perfume on the violet,
To smooth the ice, or add another hue
Unto the rainbow, or with taper-light
To seek the beauteous eye of heaven to garnish,
Is wasteful and ridiculous excess.
William Shakespeare - King John, Act IV, scene ii
WHAT NEXT?
Please keep your ears open and let me know of any new proposals!
For more information....
For information on the location and status of the River Humber, see:
Meanwhile, why not have a look at Hull City Council's own Street Lighting Strategy and Policies?
Especially the section entitled: Lighting systems shall minimise pollution to the night sky.
More on Light Blight:
Other interesting sites related to light pollution are:
[Please respect copyright and do not plagiarise this information. You are welcome to use this material for your own purposes, or to put in a hotlink to this webpage, but please do not copy and alter it and pass it off as your own; it is not.]
Copyright © 2007